Ainebot
Ainebot is a Natural Language chatbot which can be used as a command-line program or with a web interface.

The Ainebot chat 'engine' has its' roots in the A.L.I.C.E chatbot (Program C). Most existing chatbots use a database of files written in the AIML language. The plain-text database files give the chabot its' personality. Ainebot uses similar files, but written in an improved Ai language called AineLanguage.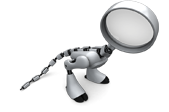 This item seems to be lost now. Let us know if you find it!