Quickbot
Quickbot is an online WLM/MSN
robot
, who can translate almost all European languages, feed fresh news, solve any math expression, give weather information and perform many useful functions.
1. Robot - A robot (also called a droid) is a machine - especially one programmable by a computer - capable of carrying out a complex series of actions automatically.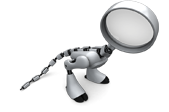 This item seems to be lost now. Let us know if you find it!