Ramona
"Even a virtual person likes to chat. Just answer Ramona's questions, and let the conversation flow from there."

Currently a link is located on the home page, you may have to hunt a little for her. Uses Flash with a multitude of different voices. Animated and you are also able to change her personality. Past versions going back to 2001 are available and even a 1956 concept...

You can for example ask the question : "Who wrote the Davinci Code?" - her reply was "Dan Brown, the famous American novelist whose works include The Da Vinci Code and Angels and Demons."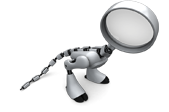 This item seems to be lost now. Let us know if you find it!