Superbot
Create your own customized AIML bot based on your own personality or character.

The ALICE A.I. Foundation has released a totally new AIML Superbot Development Kit, making it easier than ever to create custom chatbots and mobile virtual assistants. Based on the popular AIML (Artificial Intelligence Markup Language) standard, the Superbot provides a pathway to rapidly building your bot's knowledge base. The character you create can be run on a variety of AIML platforms including Pandorabots.
1. Artificial Intelligence - Artificial intelligence (AI) is intelligence demonstrated by machines, as opposed to the natural intelligence displayed by animals and humans.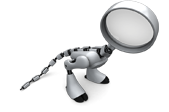 This item seems to be lost now. Let us know if you find it!