Alphaville
(Alpha 60) Alphaville combines the genres of dystopian science fiction and film noir. There are no special effects or futuristic sets; instead, the film was shot in real locations in Paris, the night-time streets of the capital becoming the streets of Alphaville, while modernist glass and concrete buildings (that in 1965 were new and strange architectural designs) represent the city's interiors. The film is set in the future but the characters also refer to twentieth century events; for example, the hero describes himself as a Guadalcanal veteran.

Lemmy Caution is a secret agent with the code number of 003 from "the Outlands". Entering Alphaville in his Ford Mustang, called a Ford Galaxie, he poses as a journalist named Ivan Johnson, and claims to work for the Figaro-Pravda. He wears a tan overcoat that stores various items such as a M1911A1 Colt Commander automatic pistol. He carries a cheap Instamatic camera (new in 1965) with him and photographs everything he sees, particularly the things that would ordinarily be unimportant to a journalist.

Caution is, in fact, on a series of missions. First, he searches for the missing agent Henry Dickson (Akim Tamiroff); second, he is to capture or kill the creator of Alphaville, Professor von Braun (Howard Vernon); lastly, he aims to destroy Alphaville and its dictatorial computer, Alpha 60. Alpha 60 is a sentient computer system created by von Braun which is in complete control of all of Alphaville.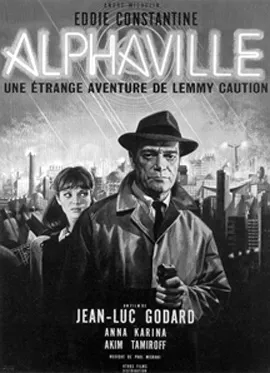 Report Broken Link
This entry uses material from the Wikipedia article about Alphaville which is released under the Creative Commons Attribution-Share-Alike License 3.0