Talking computers nearing reality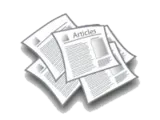 Machines that listen and talk like humans are becoming a reality, researchers and tech executives say.

The technical kinks, high costs and application misfires that have held back the acceptance of speech recognition and activation are being ironed out, they say. As a result, companies are coming out with a variety of products that will let consumers access databases using voice commands, for example, or transform e-mails into one- or two-way verbal exchanges.
| | |
| --- | --- |
| Category : | Articles |
| Year : | 2003 |
| Submitted : | 6th, August 2008 |
Report Broken Link