Transformers: Armada
Transformers: Armada, known in Japan as Super Robot Life-Form Transformers: Legend of the Microns, is a Transformers animated series, comic series, and toy line which ran from 2002–2004.
On the planet of Cybertron, war rages between the two factions known as the Autobots and the Decepticons over the race of smaller, power-enhancing Transformers called Mini-Cons. Seeking to flee the conflict that surrounds them, the Mini-Cons escape Cybertron with the aid of the Autobots, but an attack by the Decepticons cripples the ship as it flees through a spacebridge. The ship materializes in the Solar system and impacts with the moon of Earth, breaking in two. One portion of the ship stays embedded on the Moon, while the other plummets to the planet below. The Mini-Cons, all locked in pentagonal stasis panels, are scattered across the globe. The ship crashes to Earth and 4 million years pass.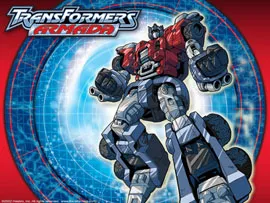 | | |
| --- | --- |
| Category : | Robots on TV |
| Year : | 2002 |
| Submitted : | 6th, August 2008 |
1. Robot - A robot (also called a droid) is a machine - especially one programmable by a computer - capable of carrying out a complex series of actions automatically.
Report Broken Link
This entry uses material from the Wikipedia article about Transformers: Armada which is released under the Creative Commons Attribution-Share-Alike License 3.0