Atomic Betty
(X-5) Atomic Betty (known as Atomic Betty: Mission Earth for the third and final season) is a Canadian-French Flash-animated science fiction television series.
Betty Barrett is a typical 12-year-old pre-adolescent girl who enjoys school, daydreaming about living in outer space, science-fiction movies and singing in her band, living in Moose Jaw Heights (a fictional suburb of Moose Jaw, Saskatchewan). Until, Betty finds out that she is actually an alien. Unknown to most of her friends and family, however, she is also a member of the Galactic Guardians, an elite team dedicated to interstellar crime fighting and law enforcement. As "Atomic Betty", assisted by her two allies; the extraterrestrial pilot Sparky and a robot named X-5, she confronts the evil overlord Maximus I.Q. and his lackey Minimus, as well as other intergalactic supervillains, criminals, terrorists, and gangsters. Despite being rather unassuming on Earth, Atomic Betty is a superstar throughout the galaxy and even has her group of people who consider her their role model.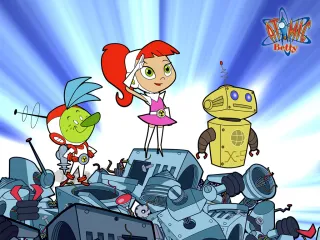 | | |
| --- | --- |
| Category : | Robots on TV |
| Year : | 2004 |
| Submitted : | 6th, August 2008 |
1. Robot - A robot (also called a droid) is a machine - especially one programmable by a computer - capable of carrying out a complex series of actions automatically.
Report Broken Link
This entry uses material from the Wikipedia article about Atomic Betty which is released under the Creative Commons Attribution-Share-Alike License 3.0