Terminator : Salvation
Terminator Salvation is a 2009 American post-apocalyptic science fiction war film directed by McG and starring Christian Bale and Sam Worthington. It is the fourth installment of the Terminator franchise. In a departure from the previous installments, which were set between 1984 and 2003 and used time travel as a key plot element, Salvation is a post-apocalyptic film set in the year 2018, fifteen years after the events of Terminator 3: Rise of the Machines. It focuses on the war between Skynet's machine network and humanity; the remnants of the world's military have organized as the Resistance, fighting against Skynet's killing machines. Bale portrays John Connor, Resistance fighter and central character to the franchise, while Worthington portrays cyborg Marcus Wright. Terminator Salvation also featured Anton Yelchin as a young Kyle Reese, a character first introduced in The Terminator, and the film depicts the origin of the T-800 (Model 101) Terminator.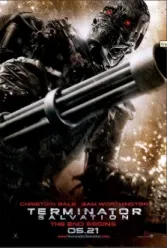 1. Cyborg - A cyborg (short for 'cybernetic organism') is a being with both organic and biomechatronic body parts.
Report Broken Link
This entry uses material from the Wikipedia article about Terminator : Salvation which is released under the Creative Commons Attribution-Share-Alike License 3.0