Cute J-Girl Robot in Tokyo, Japan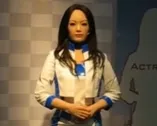 A cute Japanese female
robot
talking and moving her hands around. Video shot at the Tokyo International Robot Expo in December of 2005. This robot is called the Actroid.
1. Robot - A robot (also called a droid) is a machine - especially one programmable by a computer - capable of carrying out a complex series of actions automatically.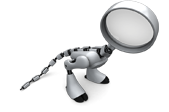 This item seems to be lost now. Let us know if you find it!