District 9
District 9 is a 2009 science fiction film directed by Neill Blomkamp, written by Blomkamp and Terri Tatchell, and produced by Peter Jackson and Carolynne Cunningham. It is a co-production of New Zealand, the United States, and South Africa. The film stars Sharlto Copley, Jason Cope, and David James, and was adapted from Blomkamp's 2006 short film Alive in Joburg.
The film is mostly presented in a found footage format by featuring fictional interviews, news footage, and video from surveillance cameras. The story, which explores themes of humanity, xenophobia, and social segregation, begins in an alternate 1982, when an alien ship appears over Johannesburg, South Africa. When a population of sick and malnourished insect-like aliens is found aboard the ship, the South African government confines them to an internment camp called District 9. Years later, during the government's relocation of the aliens to another camp, one of the confined aliens named Christopher Johnson tries to escape with his son and return home, crossing paths with a bureaucrat named Wikus van der Merwe. The title and premise of District 9 were inspired by events in District Six, Cape Town, during the apartheid era.
The film contains a great exosuit scene.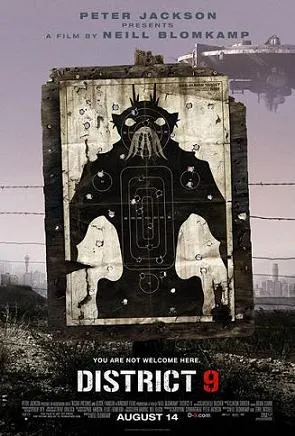 1. Exosuit - A wearable mobile machine that is powered by a system of electric motors, pneumatics, levers, hydraulics, or a combination of technologies that allow for limb movement with increased strength and endurance.
Report Broken Link
This entry uses material from the Wikipedia article about District 9 which is released under the Creative Commons Attribution-Share-Alike License 3.0