Alice She Talks - Chat Bot
[iTunes app] Alice is an ordinary 23 year old person living inside your device. She has a strong will of her own and she can surely make that clear to the one she is chatting to. She also has own interests and opinions regarding movies, books, science, politics and every day life. Enough said about Alice. Find out for yourself what she likes and dislikes.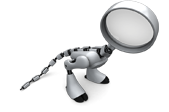 This item seems to be lost now. Let us know if you find it!