Mackenzie The Chat Robot

Mackenzie is quite a clever chat bot living on the Charlestown.net website. Her favourite movie is 'Knight and Day', but I confess I have never seen it. Mackenzie helps to promote Charlestown Indiana and is "an ongoing experiment in artificial intelligence."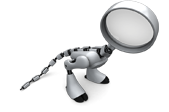 This item seems to be lost now. Let us know if you find it !

Report Broken Link | Contact Webmaster