Top 10 Robots (films).
Top ten according to LoveFilm - "Pay attention, here comes the science bit (sort of). 1.
Robot
, n. machine programmed to do a task. 2.
Android
, n. like 1, but more human-y by design, and often beset by identity issues. 3.
Cyborg
, n. see 2, but with real fleshy stuff on the metal bits. 4. Replicant, n. 2+3, without the metal bits, but loads more problems. This is our top ten countdown of type 1..."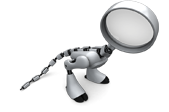 This item seems to be lost now. Let us know if you find it !

Report Broken Link | Contact Webmaster