Artificial Intelligence
A series of articles on Artificial Intelligence.

Also the home of Adam - "Adam is a chatbot program designed to mimic ordinary conversation. 1.20 has a more consistent and larger data model. It now thinks it's a person and responds like one. This was done so that I can work towards a bot that can pass the Turin test and enter the Loebner Prize. It also now has a spelling engine to try and guess mispelled words. As well as more data about the world. 1.20 has a time and date processor as well as a basic math unit. This version knows more about the alphabet, knows more about word lengths and it can deal with more than one sentence at a time. E.G My name is Ed. What is your name?"

And a Windows program that reads and writes in the Loebner Protocol.

Images broken, but the content is still there.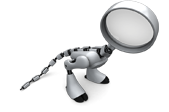 This item seems to be lost now. Let us know if you find it !

Report Broken Link | Contact Webmaster