Loebner 2011 winner - Bruce Wilcox Interview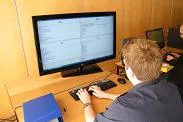 Here I am happy to once again present our annual Loebner Prize Winner interview. Questions were gathered from the members of Ai Dreams. This year Bruce Wilcox repeated last year's success and took the Bronze medal with his new chatbot Rosette.
1. Loebner Prize - The Loebner Prize is an annual competition in artificial intelligence that awards prizes to the computer programs considered by the judges to be the most human-like.
Report Broken Link