D-KALE

[French] Faites connaissance avec notre agent conversationnel, D-KALE, cet assistant virtuel n'a pas une intelligence artificielle phénoménale, mais elle est suffisante pour soutenir une conversation avec vous, et surtout vous renseigner sur le groupe de rock suisse D-KALAGE (mais vous pouvez aborder d'autres sujet bien sûr!). L'accent a été mis sur le sens de l'humour pour le rendre plus sympathique. Le logotype du groupe a servi de base pour créer son aspect.

English Translation : D-KALE is a virtual french assistant made to help visitors on a swiss rock band website. It can talk about all the stuff related to the band and also about other general subjects. Emphasis was set to the sense of humour, to make him more engaging. Its look was inspired by the band's logotype.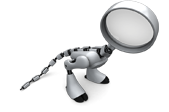 This item seems to be lost now. Let us know if you find it!