Iron Man 3
Tony Stark recalls a New Years Eve party in 1999 with scientist Maya Hansen, inventor of Extremis - an experimental regenerative treatment intended to allow recovery from crippling injuries. Disabled scientist Aldrich Killian offers them a place in his company Advanced Idea Mechanics, but Stark rejects the offer, humiliating Killian.
Years later, Stark's experiences during the alien invasion of New York are giving him panic attacks. Restless, he has built several dozen Iron Man suits, creating friction with his girlfriend Pepper Potts. A string of bombings by terrorist the Mandarin has left intelligence agencies bewildered by a lack of forensic evidence. When Stark Industries security chief Happy Hogan is badly injured in one such attack, Stark overcomes his stupor and issues a televised threat to the Mandarin, who responds by destroying Stark's home with helicopter gunships. Hansen, who came to warn Stark, survives the attack along with Potts. Stark escapes in an Iron Man suit, which his
artificial intelligence
JARVIS pilots to rural Tennessee, following a flight plan from Stark's investigation into the Mandarin. Stark's experimental armor lacks sufficient power to return to California, and the world believes him dead. ~Wikipedia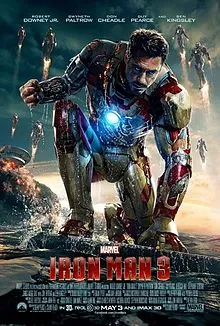 1. Artificial Intelligence - Artificial intelligence (AI) is intelligence demonstrated by machines, as opposed to the natural intelligence displayed by animals and humans.
Report Broken Link