Prometheus
Prometheus is a 2012 science fiction film directed by Ridley Scott, written by Jon Spaihts and Damon Lindelof, and starring Noomi Rapace, Michael Fassbender, Guy Pearce, Idris Elba, Logan Marshall-Green, and Charlize Theron. It is set in the late 21st century and centers on the crew of the spaceship Prometheus as it follows a star map discovered among the artifacts of several ancient Earth cultures. Seeking the origins of humanity, the crew arrives on a distant world and discovers a threat that could cause the extinction of the human race.
David is an
android
that acts as the ship's butler and maintenance man. It is designed to be indistinguishable from humans, and begins to develop it's own ego, insecurities, jealousy and envy. Writer Damon Lindelof stated that the character provides a non-human perspective on the film's events.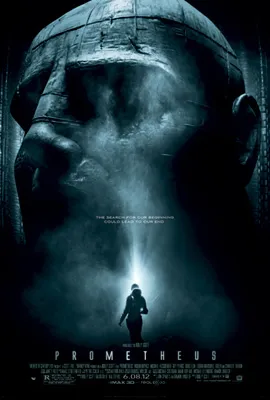 1. Android - An android is a humanoid robot or synthetic organism designed to look and act like a human, especially one with a body having a flesh-like resemblance.
Report Broken Link
This entry uses material from the Wikipedia article about Prometheus which is released under the Creative Commons Attribution-Share-Alike License 3.0