Ex Machina
From acclaimed writer/director Alex Garland (28 Days Later, Sunshine) comes EX MACHINA, a chilling vision of the not-too-distant future of artificial intelligence.

In the mountain retreat of a gifted internet billionaire, a young man takes part in a strange experiment: testing an artificial intelligence, housed in the body of a beautiful robot girl. But the experiment twists into a dark psychological battle, where loyalties are torn between man and machine.

Domhnall Gleeson, Oscar Isaac and Alicia Vikander lead the cast of Ex Machina, an intense psychological thriller, played out in a love triangle. The film explores big ideas about the nature of consciousness, emotion, sexuality, truth and lies.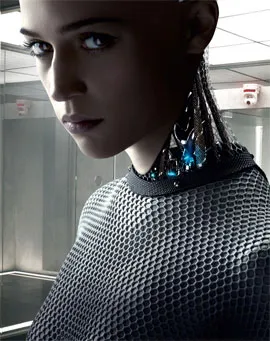 1. Artificial Intelligence - Artificial intelligence (AI) is intelligence demonstrated by machines, as opposed to the natural intelligence displayed by animals and humans.
2. Robot - A robot (also called a droid) is a machine - especially one programmable by a computer - capable of carrying out a complex series of actions automatically.
Report Broken Link