Robot Overlords
Not long after the invasion and occupation of Earth by a race of powerful
robot
s wanting human knowledge and ingenuity, humans are confined to their homes. Leaving without permission would be to risk their lives. Monitored by the electronic implants in their necks, the robot sentries are able to track the movements of humans in order to control them. And if any person comes out of their home, they are given warnings by the robot sentries to get inside their home. If they do not comply, they are shot immediately.
Long article on the making of here...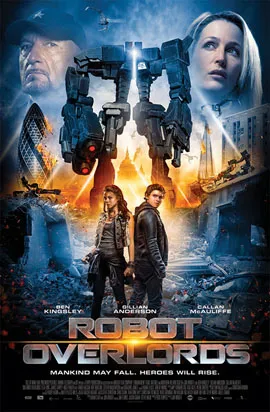 1. Robot - A robot (also called a droid) is a machine - especially one programmable by a computer - capable of carrying out a complex series of actions automatically.
Report Broken Link
This entry uses material from the Wikipedia article about Robot Overlords which is released under the Creative Commons Attribution-Share-Alike License 3.0