Vice
Vice is a 2015 American science fiction film directed by Brian A. Miller and written by Andre Fabrizio and Jeremy Passmore. The film stars Thomas Jane, Bruce Willis and Ambyr Childers.
Businessman Julian Michaels (Bruce Willis) has designed the ultimate holiday maker resort: "VICE", where anything goes and the customers can play out their wildest fantasies with artificial inhabitants who look, think and feel like humans. When an artificial
Robot
(Ambyr Childers) becomes self-aware and escapes, she finds herself caught in the crossfire between Julian's mercenaries and Roy, a detective (Thomas Jane) who is hell-bent on shutting down the corruption of Vice, and stopping the violence once and for all.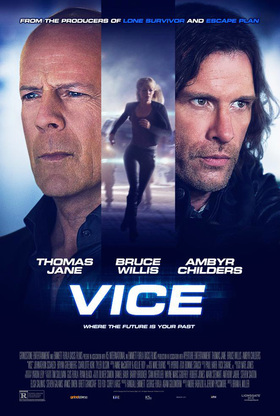 This entry uses material from the Wikipedia article about Vice which is released under the Creative Commons Attribution-Share-Alike License 3.0

Report Broken Link | Contact Webmaster