Blade Runner 2049
Blade Runner 2049 is an upcoming American
neo-noir
science fiction film directed by Denis Villeneuve and written by Hampton Fancher and Michael Green. It is the sequel to Blade Runner, starring Ryan Gosling, and Harrison Ford reprising his role as Rick Deckard, with Ana de Armas, Jared Leto, Sylvia Hoeks, Robin Wright, Mackenzie Davis, Carla Juri, Lennie James and Dave Bautista in supporting roles. The film is set for release in the United States on October 6, 2017, in 2D, 3D and
IMAX 3D
.
Thirty years after the events of the first film, a new blade runner, LAPD Officer K (Ryan Gosling), unearths a long-buried secret that has the potential to plunge what's left of society into chaos. K's discovery leads him on a quest to find Rick Deckard (Harrison Ford), a former LAPD blade runner who has been missing for 30 years.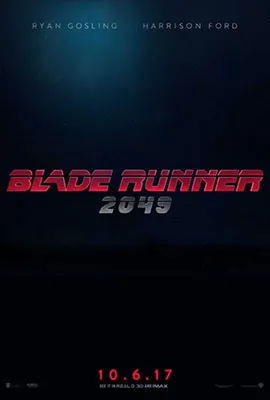 1. Neo-noir - Neo-noir (English: New-black; from the Greek neo, new; and the French noir, black) is a style often seen in modern motion pictures and other forms that prominently use elements of film noir, a cinematic term used primarily to describe stylish Hollywood crime dramas, but with updated themes, content, style, visual elements or media that were absent in film noir of the 1940s and 1950s.
2. IMAX 3D - To create the illusion of depth, the IMAX 3D process uses two separate camera lenses that represent the left and right eyes.
Report Broken Link
This entry uses material from the Wikipedia article about Blade Runner 2049 which is released under the Creative Commons Attribution-Share-Alike License 3.0