The Orville
The Orville is an American science fiction comedy-drama television series created by and starring Seth MacFarlane.
MacFarlane stars as Ed Mercer, an officer in the Planetary Union's line of exploratory space vessels. After his career takes a downturn following his divorce, he is given the ship Orville as his first command, only to discover that his ex-wife, Kelly Grayson (Adrianne Palicki), has been assigned as his first officer. Inspired by several sources, including Star Trek and The Twilight Zone, the series tells the story of Mercer, Grayson, and the crew of the Orville as they embark on various diplomatic and exploratory missions.
Features Rachael MacFarlane as the voice of the Orville computer.
And Mark Jackson as Isaac (named for Isaac Newton), the Orville's science and engineering officer. Isaac is a member of the artificial, non-biological race from Kaylon-1 that views biological lifeforms, including humans, as inferior.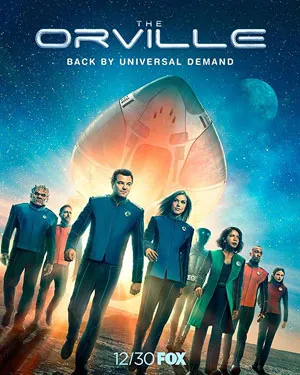 Report Broken Link
This entry uses material from the Wikipedia article about The Orville which is released under the Creative Commons Attribution-Share-Alike License 3.0