Finch
Finch is a 2021 American post-apocalyptic survival film directed by Miguel Sapochnik and written by Craig Luck and Ivor Powell. The film stars Tom Hanks as the titular character, alongside Caleb Landry Jones.
Fifteen years have passed since a massive solar flare destroyed the ozone layer, turning the planet Earth into a largely uninhabitable wasteland ravaged by extreme weather events while being scorched by the sun's ultraviolet rays, increasing temperatures to 150 °F (66 °C; 339 K). One of the few survivors, robotics engineer Finch Weinberg, lives alone with his dog Goodyear and a helper-robot Dewey in an underground St. Louis laboratory once owned by the company he worked for before the cataclysm.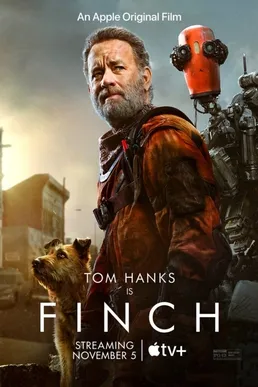 1. Robot - A robot (also called a droid) is a machine - especially one programmable by a computer - capable of carrying out a complex series of actions automatically.
Report Broken Link
This entry uses material from the Wikipedia article about Finch which is released under the Creative Commons Attribution-Share-Alike License 3.0