Tax on the trail of chatterbot charges
"Have you been chatting with your computer lately? Wouldn't it be a major achievement to stop clicking our way through the Web or complex programs and get answers in the same way we talk to a colleague or a friend?"
These are the questions that pop up on the site of IMT Labs, which is "developing a virtual communication system that allows you to use human-like communication and natural language for virtually everything you can imagine doing on the Internet and on your own computer."
| | |
| --- | --- |
| Category : | Articles |
| Year : | 2006 |
| Submitted : | 6th, August 2008 |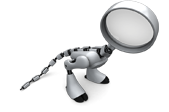 This item seems to be lost now. Let us know if you find it!