'Chatty George' talks himself up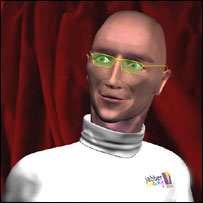 Meet George, 39, single, quirky sense of humour, looking for friends to chat with online.
He's a profound intellect and speaks 40 languages, but is also prone to unwarranted rudeness and his banter can be slightly disjointed.
George is a chat Robot, or chatbot, whose descendants may become familiar faces in interactive entertainment systems, his creators claim.
| | |
| --- | --- |
| Category : | Articles |
| Year : | 2006 |
| Submitted : | 6th, August 2008 |

Report Broken Link | Contact Webmaster